Members of NFD compete in annual stair climb to raise money for charity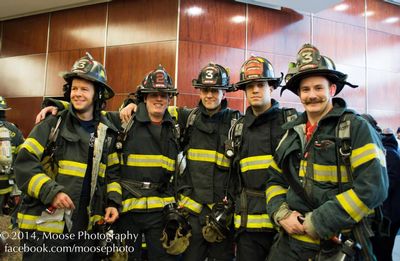 From left to right: FF Tim Killilea, FF Mike White, FF Joe Deluca, FFOP Norman Griffiths, FF Phil McCully
On February 1st, members of Local 863 competed in an event to raise money and awareness for the American Lung Association. Exceeding their team goal and achieving over $1500 in fundraising for the cause were members of Engine 3 and Ladder 2.
This stair climb consists of a "vertical road race" up 42 floors wearing full bunker gear, adding an additional 80 lbs. onto the participants. Participants travel from all over the country to take part in this event, and our members did a great job of representing. FF Tim Killilea of Engine 3 set the record for our local, with a time of 10:09, great job Tim!
The event takes place on the first Saturday of every February, and members are encouraged to participate. There is no pledge too little or too large, and the comradery is unmatched. Contact Phil McCully at Station 3, Group 2 for more details on how to participate for next year.